Việt Nam News reporter Ngọc Bích talks to Nguyễn Thị Nga, who has been honoured to be one of only two business people from the ASEAN region receiving the "ASEAN Entrepreneur Award". She is now the chairwoman of the BRG Group JSC and the Southeast Asia Commercial Joint Stock Bank (SeABank).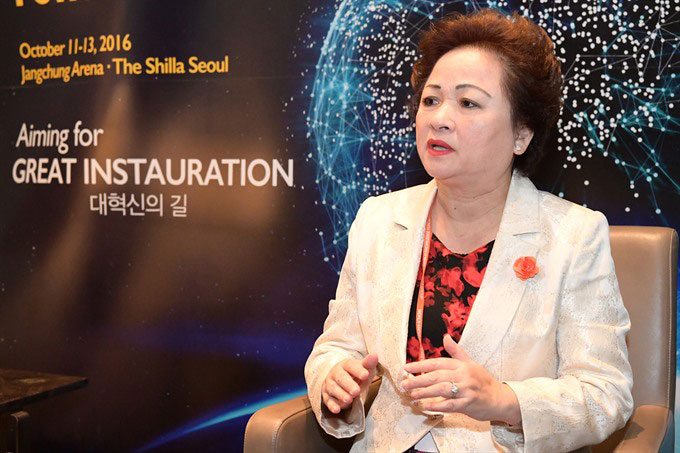 Nguyễn Thị Nga speaks at the 17th World Knowledge Forum held in Seoul in October, 2016. — Photo SeABank
Before engaging in banking activities in 1993 and BRG in 1994, Nga was in business in the fields of import and export and retail sales of consumer goods. In 1994, she set up the first limited company and that was the forerunner of today's BRG Group. She used to be the chairwoman of the Việt Nam Technological and Commercial Joint Stock Bank, before leading Seabank. At the banks, Nga often started from the position of a shareholder and then participated in the governance.
What difficulties did you have to encounter when you – a trader – stepped into the banking sector? What did you do to overcome the situation?
The banking business is more sensitive and riskier than trading. In export and import activities, before goods reach consumers' hands, many processes, such as shipping, invoicing and maintenance must be monitored; while in the banking sector, every transaction must comply with the State Bank of Việt Nam's regulations to ensure the security of the monetary system and to not cause negative impacts to the economy.
I was very nervous, but due to the nervousness I was also determined to improve my knowledge. I stayed in the office until 7or 8pm to read regulations issued by central banks, documents on international banking practices, the law on enterprises and other related laws. I read a lot. This is a valuable experience that I would like to share with young people.
In addition, my experiences in trading were also an advantage. I am quite proficient in maintaining import-export receipts, as well as have a thorough grasp of domestic and international trade regulations. This helped me a lot when I was appointed to be a member of the Board of Directors. I had to assess and approve credit contracts and payment records. I didn't let any incidents happen.
Another difficult time was when I had to lead the bank to maintain stable operations and overcome the negative effects of the world economic crisis. However, I couldn't have reached the success I enjoy today without the efforts made by assistants and staff, who were unanimously determined to unite to stabilise the banking operations. Until today, SeAbank is one of 14 banks accounting for 99 per cent of the market share in the banking system, with its high ranking and superior liquidity.
In addition to the banking sector, the BRG Group also invests in various industries. Why did you develop the idea to invest in the tourism and entertainment sectors?
The Government's policy is to prioritise tourism development so that it would become a key economic sector. I think that their strategy is completely suitable to the country's situation, as it possesses a long and very beautiful coastline, many attractive cultural heritages and festivals. A developed tourism sector would generate large revenues for the State budget.
Therefore, in addition to banking activities, I decided to invest in other areas such as operating golf courses and hotels. Also, construction of six-star hotels will help Việt Nam to have strong hotel brands and attract more tourists.
In the coming time, BRG Group will focus on serving the community and their children. Recently, we signed a memorandum of understanding with Sanrio Wave Hong Kong – owners of the world famous Hello Kitty character – in order to develop the Hello Kitty park – the first internationally branded park in Việt Nam. This is not only BRG's desire to bring children more gaming experiences, but it is also the wish of many Vietnamese children.
This is an indoor park with an investment of at least VNĐ2 trillion (US$90 million). The project is expected to come into operation by the end of 2018.
We will also work with our partner to be able to offer a reasonable price, matching the Vietnamese families' income. The price level set as high as that offered abroad would not be suitable.
As a woman shouldering a huge work load, how could you find a balance with family life?
With mission of maintaining jobs for 15,600 employees of the BRG Group across the country, I normally work for 12-14 hours per day, even 16 hours. But I am very lucky to have support from my family, my children and my husband. Cooking for my husband is the way I found balance. The second thing is to find the time to play with my grandchildren.
However, I have very little time to play with them because when I come home, it is quite late and my children are about to go to sleep. This was a disadvantage for them. It tormented me so much that there are simple things that I do not have time for.
I love doing what is called the vocation of a woman, such as shopping at markets, buying food and preparing family meals. However, it is very difficult to do so, and extremely hard to balance. When choosing social works, I accepted sacrifices of my favourite activities. That is the trade-off.
You are very successful in M&A deals. However, are there any times you are put into awkward situations due to your being a woman leader?
This was the case when I bought the King's Island golf course in 1999. At the time, there was no Vietnamese person buying projects from foreign partners. So the deal received a lot of attention from the Government and industry insiders.
Workers always think foreign owners would have better policies and pay higher salaries. They were sceptical about the capacity of a private company, especially when it was headed by a woman.
People considered very carefully where the money came from and what was the management capacity. I faced a lot of pressure when everything was strictly supervised. Government agencies asked me to maintain every asset of the project, and I had to commit to keep the golf course, as well as the recreational environment.
Finally, I succeeded in buying 60 per cent of the golf course's shares and had it handed over in January 1, 2000.
The Government is determined to improve the business environment. How do you find its impact on the business climate and entrepreneurial spirit? What should be done to further facilitate business development?
Recently, the Government issued Resolution 19 and Resolution 35, which are dedicated to improving the business environment and supporting business development. Businesses are very excited. They have been waiting for the resolutions to come into practice, thereby they are better prepared. They also expect bank lending rates to head downwards, compared with current interest rates.
In recent years, the Government and State Bank of Việt Nam issued innovative and flexible policies to stabilise the monetary market, maintain good liquidity ratios and keep the value of the Việt Nam đồng stable. The commercial banks have enough cash flow to assist the economy, when the economy needs to mobilise funds.
Another point is that the foreign exchange reserves of Việt Nam are their highest ever, proving to the world that we have a stable balance of payment. I see, step by step, that policies and direction of the State on the activities of credit institutions will help the macro-economic activity in general, and the banking system in particular, to be stable.
However, I always believe that if businesses receive loans at lower interest rates, they will better play their roles as a driving force for economic development. Higher lending rates weaken enterprises and the economy's growth will be slower.
But it is difficult for interest rates to fall faster, because commercial banks also need time to improve their performance and reduce their operational costs, which are the foundation for lower lending interest rates.
In response to the Government's determination, SeABank is also finding ways to reduce its input costs and increase efficiency, so as to create favourable conditions for enterprises to access loans at suitable interest rates.
Other conditions, such as infrastructure expansion, must also take time. Related to the administrative procedures, relevant authorities should offer assistance by providing the criteria for investors to be licensed in any project and give specific and clear instructions to shortening waiting times of enterprises.
As a member of the ASEAN Business Advisory Council and having experience in trading and working with foreign partners, what advice would you give to Vietnamese businesses during the integration process?
Việt Nam has joined the WTO, signed many free trade agreements and is now looking forward to the ratification of the Trans-Pacific Partnership, but it seems that Vietnamese enterprises are still vague about them, which is hindering their ability to grab the opportunity to grow. Few companies have a thorough understanding of integration.
Therefore, providing information to improve knowledge is very important for businesses. I often say to the Việt Nam Chamber of Commerce and Industry that it has to organise free training courses and provide specialised reading materials for businesses. I would like to emphasise that the training courses must be provided for free. Businesses will not be keen on them if they have to pay for their participation.
Enterprises must enhance their own capacities, learn techniques to take advantages of integration and raise competitiveness. We also need to catch up. So choosing strong partners with expertise in the investment field is a good way to catch up. BRG is also following the same pattern. In addition, entrepreneurs should cooperate to leverage the best points of Vietnamese businesses.
Currently, there are very good start-up models. These models have brought a new wave, enabling many young Vietnamese and students to promote their abilities and talents. But please don't think that "getting rich is not difficult", because success always requires sweat, tears and a lot of sacrifices.
VNS