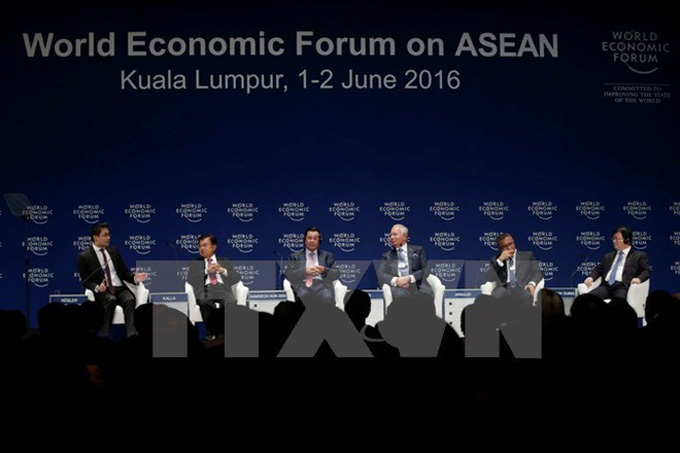 Amid opportunities and challenges faced by ASEAN, Dung said sustainable and inclusive development is a crucial goal in Vietnam's development strategies and plans.

In the foreseeable future, Vietnam will continue with comprehensive reform, economic restructuring and shift to an economically, socially and environmentally sustainable growth models, he said, adding that the country will consistently strive to fine-tune its market economy mechanism, improve its business climate and human resources quality via comprehensive reform of education-training and infrastructure ramp-up, particularly in rural areas.

In his speech at the opening of the forum themed: "Shaping ASEAN agenda for growth and inclusiveness," Malaysian PM Najib Razak said ASEAN is the seventh largest economic bloc in the world and has room for increasing internal trade by 30% by 2020.

Participants shared the view that ASEAN should strengthen mechanisms, improve human resources, infrastructure and connectivity among member states.

Attending a high-level dialogue on the fourth industrial revolution, Deputy PM Dung and Malaysian PM Najib Razak, Cambodian PM Hun Sen and Indonesian Vice President Jusuf Kalla discussed the potential, opportunities and challenges facing the revolution.

On the occasion, the Deputy PM and Malaysian PM Razak pledged to carry out the Vietnam – Malaysia action programme for 2016-2018 and boost trade, investment and labour ties.

The Vietnamese official and WEF Executive Director agreed on increased joint work in WEF's initiatives and activities as well as thorough preparations for the WEF-Mekong conference to be held in Vietnam in late October.

Dung and Vice President of the Asian Development Bank (ADB) Stephen Groff were committed to accelerating infrastructure, climate change prevention, economic restructuring and poverty reduction projects between 2016 and 2020.

Both sides will work closely together to prepare for the sixth Greater Mekong Sub-region Summit in Vietnam in late 2017.
VNA