According to Stephen Wyatt, general director of JLL Vietnam, the property market will continue its strong development trajectory.
"It will remain a year of promising prospects despite global challenges and credit tightening", Wyatt said, adding that Vietnam's property market had seen 25 years of development with various ups and downs. At present, the market was developing and maturing at a faster rate than previously seen.
"Developers, investors, banks, and government authorities are more alert to market dynamics and are prudent in their actions and roles", he said.
Wyatt's comments offer some reassurance to those concerned that the property market's growth would grind to a halt following the State Bank of Vietnam's announcement that the VND30 trillion (US$1.34 billion) housing credit support package would come to an end. This package, according to experts, made an impact on social and affordable housing only, but had a limited effect on commercial products.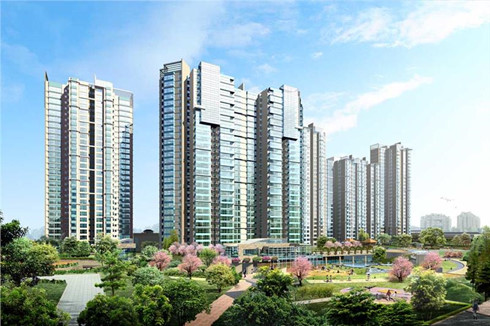 Domestic developer NovaLand seem insulated from the effects of the housing credit package coming to an end, as it is increasing its portfolio by collecting projects through mergers and acquisitions (M&As).
NovaLand chief executive officer Phan Thanh Huy said that his company's projects had been backed by the firm's financial sources rather than by soft loans from the government.
"I envisage that improving the infrastructure system will drive the real estate market to a higher position for the rest of the year", Huy said.
He added that many foreigners were eyeing the market's M&A options, which would provide a strong flow of capital to projects.
Meanwhile, from the buyer's point of view, foreigners and overseas Vietnamese have started taking an interest in buying Vietnamese properties following last year's approval of an open policy.
According to Huy, since the day of its establishment, his firm has pursued a clear strategy of focusing on the medium and luxury segments. This strategy has been developed over many years.
This year the firm will continue to offer customers products at good prices in this segment. "In addition, we will keep improving management and after-sales services at our projects. This is our responsibility, and it will strengthen our reputation in the market", Huy said.
Mauro Gasparotti, executive director at Alternaty, said that Vietnam was offering the most exciting opportunities in the region, while elsewhere in the region real estate markets were suffering.
According to him, Singapore is feeling the effects of heavy-handed cooling measures, while Indonesia and Malaysia have seen rapid currency depreciation. Thailand continues to grapple with internal issues, and Myanmar is seeing significant supply coming into the market, putting downward pressure on rentals and pricing.
"We believe there are a lot of advantages for Vietnam's property market in an emerging country. One of the main ones is the overall better state of the economy compared to previous years, leading to stronger confidence in real state growth", Gasparotti said.
The residential markets in both Hanoi and Ho Chi Minh City in the first quarter of this year continued to post positive results.
VIR